KISS performs at Super Bowl XXXIII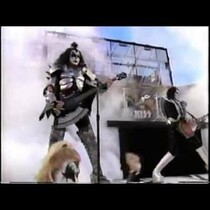 Posted February 1st, 2014 @ 1:27pm
15 years ago KISS performs at Super Bowl XXXIII, playing "Rock and Roll All Nite" moments before the opening kick off at Pro Player Stadium in Miami, FL.

During their performance, KISS is joined on t...he field by hundreds of dancing cheerleaders wearing KISS makeup. The song ends with an incredible amount of pyro and fireworks!

You can watch their performance here...