Metallica's Kirk Hammett, Robert Trujillo Announce Classic Covers Concert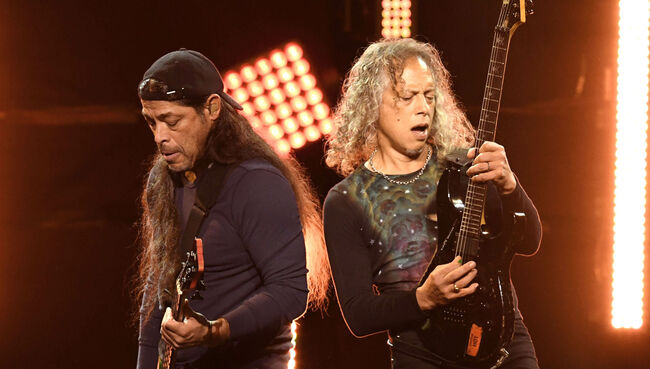 Metallica's Kirk Hammett and Robert Trujillo are beefing up their nightly covers routine and taking it to a live stage in Ontario, Canada, next month.
It's something of a tradition nowadays for Metallica that in the middle of each show, the band's lead guitarist Hammett and bassist Trujillo put together a slapdash cover of a hit song by an artist local to whatever city they are playing that night.
The tongue-in-cheek affairs, dubbed "Rob & Kirk's Doodle," usually feature Trujillo on lead vocals. They generally border somewhere between hilarious and unsightly.
(When it's quiet, I can still hear Trujillo grumbling the words to "When Doves Cry" for an upsetting Prince tribute in Minneapolis, and Hammett's grossly inappropriate guitar sound for their cover of A-Ha's "Take On Me" in Oslo, Norway.)
An entire set of that would be grating, which is probably why the pair has enlisted former Ugly Kid Joe singer Whitfield Crane and former Queens of the Stone Age drummer Joey Castillo for the July 26 gig.
In further commitment to the bit, they're booked the show under the moniker 'The Wedding Band.' While the set list promises tunes from "AC/DC, Black Sabbath, Billy Idol and more," you also get some pretty cool extras with your tickets.
A general admission ticket runs for about $200 + tax. You get an 8"x10" print of the event poster, two special edition guitar picks and a commemorative gift bag.
The VIP ticket is $300 + tax. It includes a pre-show meet-and-greet with Hammett, a signed poster, a limited edition Hammett Moster Mash Up Funko Pop! figure, plus the GA goodies.
The show will be an intimate one, too, with only 200 tickets available.
Tickets go on sale tomorrow at noon PST. You can get yours here.
Metallica has tour dates booked through November 2. Get all their tour dates here.
Photo: Getty Images